Two Tubeless Too Confusing?
June 12th, 2018
Slime recently released a new tubeless bicycle sealant and it is creating a lot of excitement in the cycling industry. But it is also creating a bit of confusion because Slime already offers a classic tubeless tire sealant that you put in ATVs, riding lawn mowers, tractors, trailers, etc.
Can I put the tubeless bike formula in my wheelbarrow? Can I put the ATV formula in my tubeless fat bike tires?
Slime's two tubeless sealants are both excellent products, but they are very different. And since this is the high season for Slime-ing your tires, we wanted to make sure to clear up any confusion between the two tubeless products. Read on to learn more about which tubeless you need:


Tubeless for non-highway vehicles:
Originally blended by hand with a power drill and a drywall blade in a garage, this tubeless tire sealant has been stopping flat tires in UTVs, lawn mowers, trailers and more since 1989.
Boasting our classic bright green Slime color, this blue label sealant is thick, with physical particles inside that mechanically seal punctures and stop slow leaks. It is designed to prevent flat tires for 2 years!
This sealant is not for bicycles because tubeless bike tires present different challenges than other tubeless tires (see more below).


Tubeless for bicycles:
Slime recently released an exciting new tubeless tire sealant specifically designed for tubeless bicycles. The different needs of tubeless bike tires, such as the butyl rubber tire casing, bead settings and tire pressures, resulted in a formula much different from the original tubeless one above.
A mint chocolate chip color, this new sealant is thinner than the blue label one and offers both a mechanical seal and a chemical seal. Since you are only using a small amount of sealant per tire, this tubeless sealant needs to be more mobile for full tire coverage and it needs to be able to properly seal the bicycle tire bead.
Wondering how Slime's next generation tubeless sealant compares to the other tubeless competition on the market? Learn more here.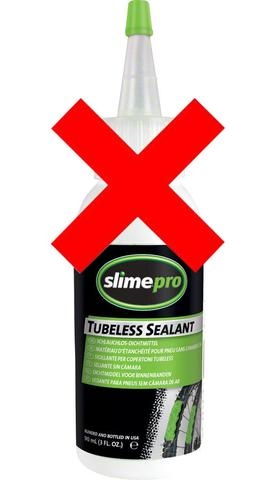 What about the old version of Slime Pro? That tubeless sealant was fine, but we have innovated significantly and the new tubeless sealant is awesomely better! (Also, on a side note, if you have tubes in your bicycle then don't use any of these sealants. Look for the Slime red label
prevent and repair sealant for tubes
).
The good news? Both tubeless tire sealants contain Slime's best features: Both work in extreme temperatures. Both are safe and easy to use. Both are environmentally friendly and clean up with water. Both last longer to ensure better puncture protection.
No more flats with Slime!