Bandendichter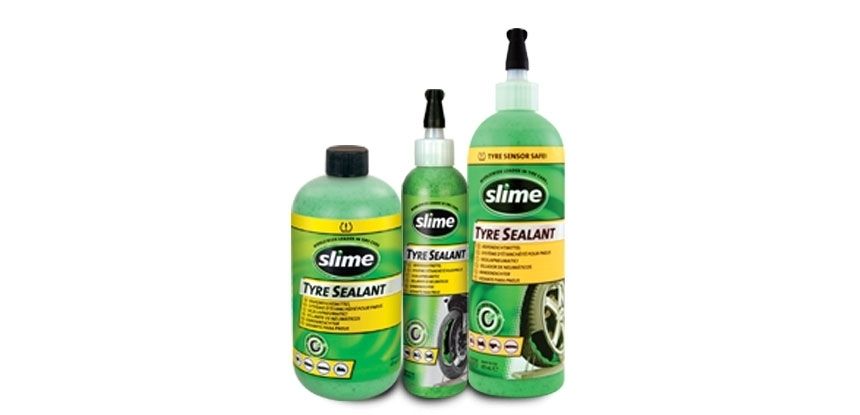 Slime Bandendichter vindt en repareert lekken in het loopvlak van de band tot een diameter van 6 mm (1/4") met behulp van Fibro-Seal-technologie. Gebruik Slime Bandendichter samen met een luchtpomp voor het repareren van lekke buitenbanden - ideaal voor auto's, vrachtwagens, motoren en SUV's. Vul uw terreinwagenbanden vooraf met Slime om lekke banden te voorkomen.

Dicht lekken tot 6 mm (1/4") direct af
Niet giftig, niet corrosief en niet gevaarlijk
Niet brandbaar
Kan met water worden verwijderd
Veilig voor banden met spanningssensor (let op het gele etiket)
For repair use only
TPMS safe
Seals multiple punctures repeatedly
Non-toxic
Non-corrosive
Non-flammable
Non-aerosol
Water soluble
TPMS COMPATIBILITY
In order for a tire sealant to be accepted by leading sensor manufacturers, it must pass three product tests. After each test, the sensor is reinstalled on the vehicle and checked for proper functionality. A sensor must be functional after all three tests in order for the sealant to be endorsed by TPMS (Tire Pressure Monitoring Systems) manufacturers.
---
Hoeveel Slime per band?:
Kies een standaardbandenmaat hieronder om te zien hoeveel Slime je nodig hebt.
Benodigde Slime:
Voor standaardbanden en -binnenbanden wordt de vereiste hoeveelheid hierboven en op onze verpakking weergegeven. Als je grote banden hebt op je motor, ATV, truck, tractor of personenauto, heb je wellicht meer Slime nodig dan hier wordt aangegeven. Gebruik dan onze handige rekenmachine (gebruikstabel) om de exacte hoeveelheid Slime te berekenen.