Tyre Sensor Safe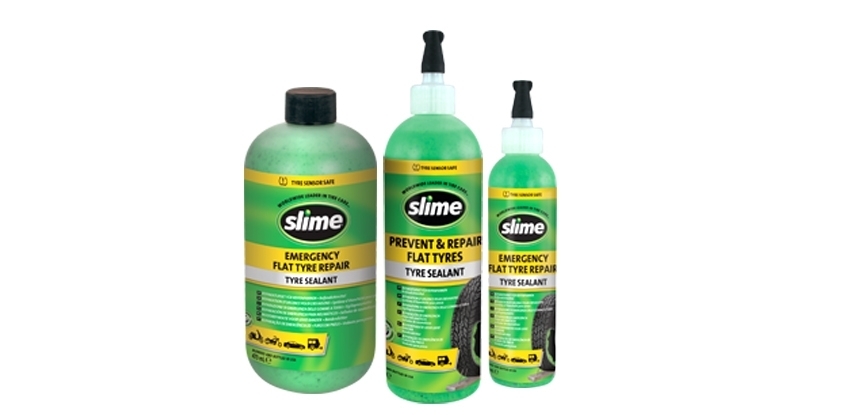 Slime Tyre Sealant seeks out and instantly seals tread area punctures up to 1/4" (6mm) using Fibro-Seal Technology. Use Slime Tyre Sealant with an air source to repair tyre punctures on cars, trucks, motorcycles and SUVs. Install Slime in the tyres of any off-highway vehicle and prevent flats before they occur.

Instantly seals up to 1/4" (6mm) punctures
Non-toxic, non-corrosive and non-hazardous
Non-flammable
Cleans up with water
TPMS Safe
For repair use only
TPMS safe
Seals multiple punctures repeatedly
Non-toxic
Non-corrosive
Non-flammable
Non-aerosol
Water soluble
TPMS COMPATIBILITY
In order for a tyre sealant to be accepted by leading sensor manufacturers, it must pass three product tests. After each test, the sensor is reinstalled on the vehicle and checked for proper functionality. A sensor must be functional after all three tests in order for the sealant to be endorsed by TPMS (Tire Pressure Monitoring Systems) manufacturers.
---
How Much Slime per tyre?:
To find out how much Slime you need in your tyres, select a standard tyre size below
Slime Needed:
General tyre and tube sizes and their required amounts are listed in the chart above and on our packaging. If you have large tyres on your Motorcycle, ATV, Truck, Tractor or Passenger Vehicle, use our handy Slime Calculator (Application Table) to determine exactly how much Slime to install as your tyre may require more than our general application amount.