Flat Tire Tale #1
April 13th, 2016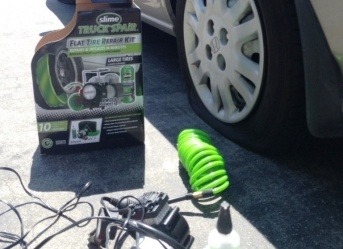 My Unluckiest / Luckiest day ever!
After returning from Spring break, at UCSB I moved my car from the parking garage only to find out it had two flat tires! (Unlucky!)
However, who should drive by but the Slime Guy (Lucky!)…. Both tires had sidewall cuts. I was in the busy bus lane. Ouch. I moved the car 50 feet to a safe spot then the Slime Guy repaired the rear flat with the Slime Truck Spair and our new Ultimate Tire Repair Kit with the reamer/plugger and two plugs. My friend put the donut spare on the front. We got home safely with only a twenty minute delay.No tire shops were open yesterday, Sunday, so on Monday I moved* the car down the street to the tire shop for two new tires. I added air to the rear tire.

Thank you Slime – for helping me get to school, to work and to home on time safely!

– Unfortunate/Fortunate College Student
*note drive slowly in these conditions

Do you have a Flat Tire Story to Tell?
Send it to us at: ArtDept(at)itwgtr.com with a photo and we might publish your story!