Happy 30th Birthday Slime!
March 11th, 2019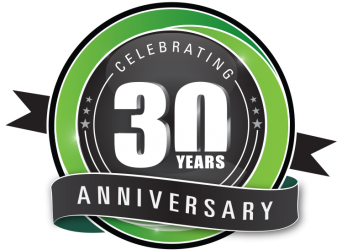 2019 is a big year of celebration for Slime – It marks the 30th anniversary of our brand! The company may have started as a small business, but it has grown into an international tire repair company that offers a complete line of tire sealants, tire inflators and tire accessories to help customers save money, stay safe and have fun.
Slime's humble beginnings began in a garage on the Central Coast of California, where the first bottles of Slime sealant were blended by hand with a power drill and drywall blade. In such close proximity to mountain biking trails and sandy dunes perfect for off-roading, it didn't take long for the "green slimy stuff," as it was often referred to back then, to develop a following. The Slime name stuck—and 30 years later, we are the leader in tire repair solutions.
While many parts of the Slime company have changed over the years, many of our core values have remained the same, such as:
Our commitment to green products and a green company (as evidenced by Slime's Green Promise).
Our commitment to keeping people safe through products that help them get out of flat tire emergencies.
Our commitment to our local community. Last year, Slime employees raised $200,000 for our local chapter of the United Way.
So, don the party hats and cut the cake -- Happy 30 years Slime!
Check out some of our products over the years (Any of you have one of these collecting dust on your garage shelf??).