Holiday Gift Guide 2018
November 13th, 2018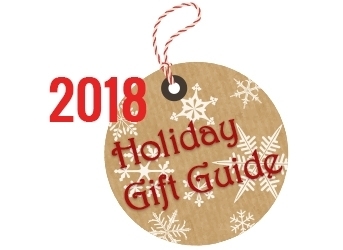 We have all been there – Struggling with that one person on your list who you just don't know what to give for Christmas!
Good news, we have great gifts for the hard-to-buy for loved one. And brilliant gifts for the you-don't-need-to-get-me-anything person. Even first-rate gifts for the has-everything-already friend.

With our 2018 Holiday Gift Guide, Slime's got you covered this gift-giving season.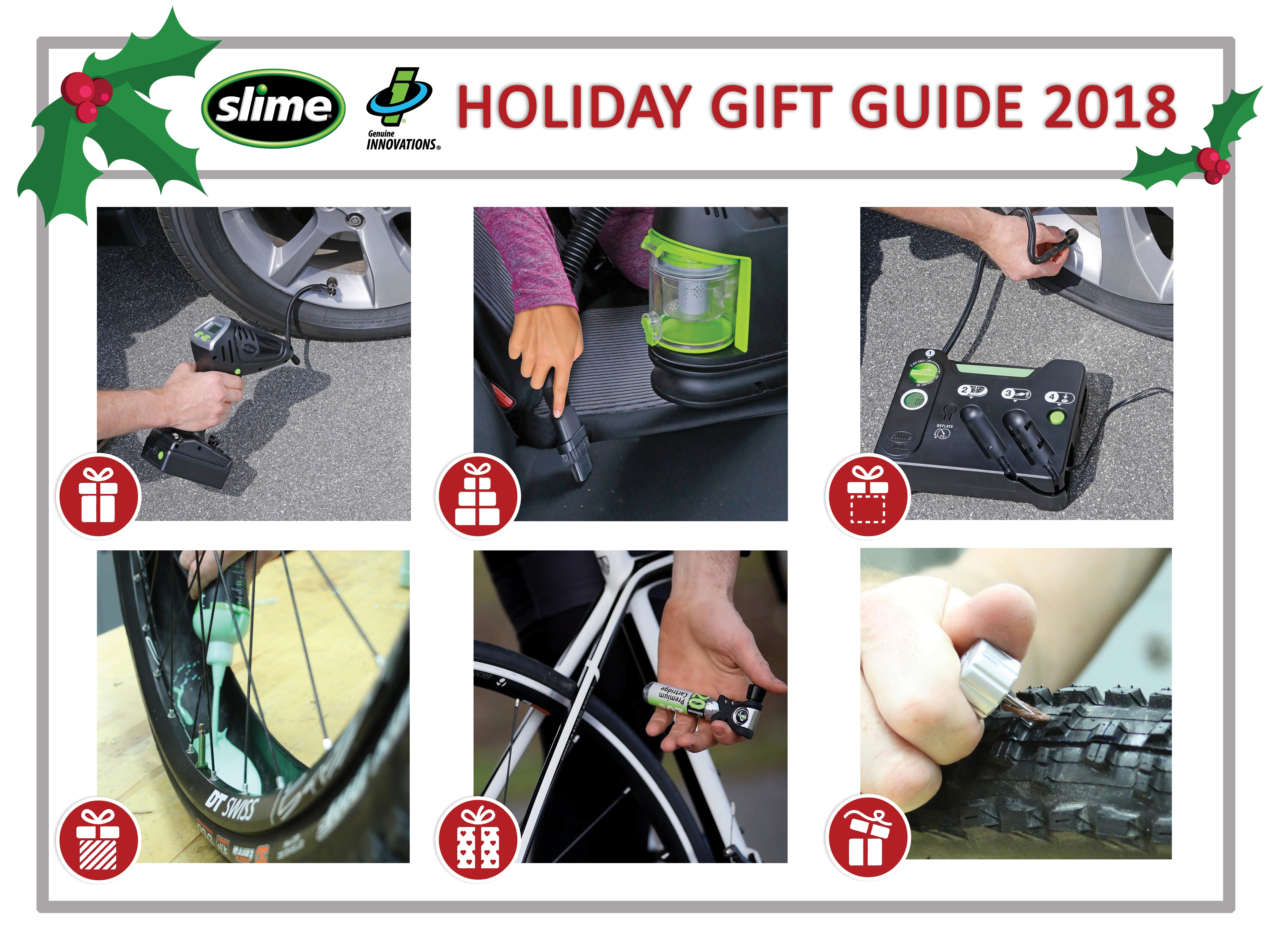 Slime Handheld Cordless Tire Inflator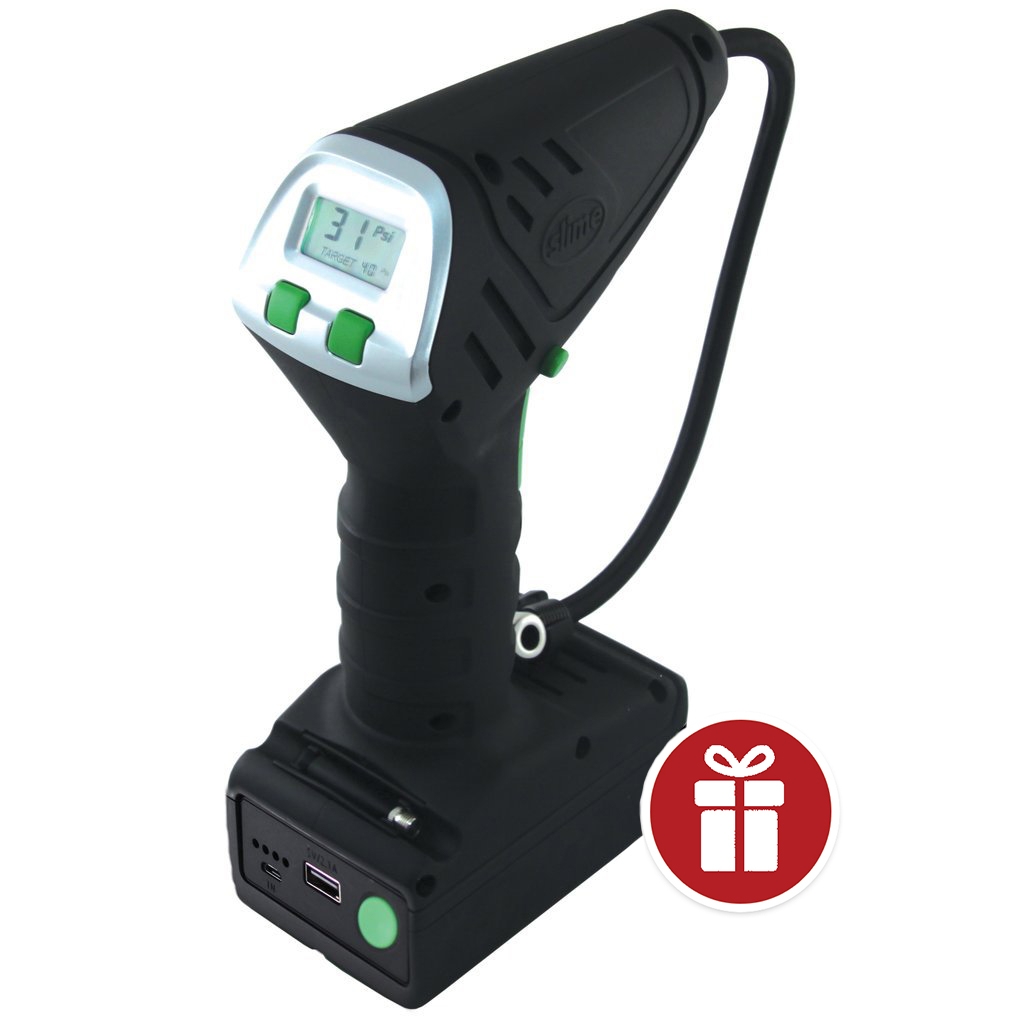 This award-winning handheld tire inflator offers the latest in cordless inflator technology. Rechargeable and portable, this powerful device operates off a Lithium Ion battery for maximum inflation.

With an army of features, including Inflate-Right Technology (auto shut off at set pressure), an easy-read, backlit digital display, a 3-position trigger lock, battery life indicator lights and a stable base so you can place on the ground and walk away, it makes for a best-in-class gift.
Great for: Dads, uncles or the person in your life who you rely on to keep air in your tires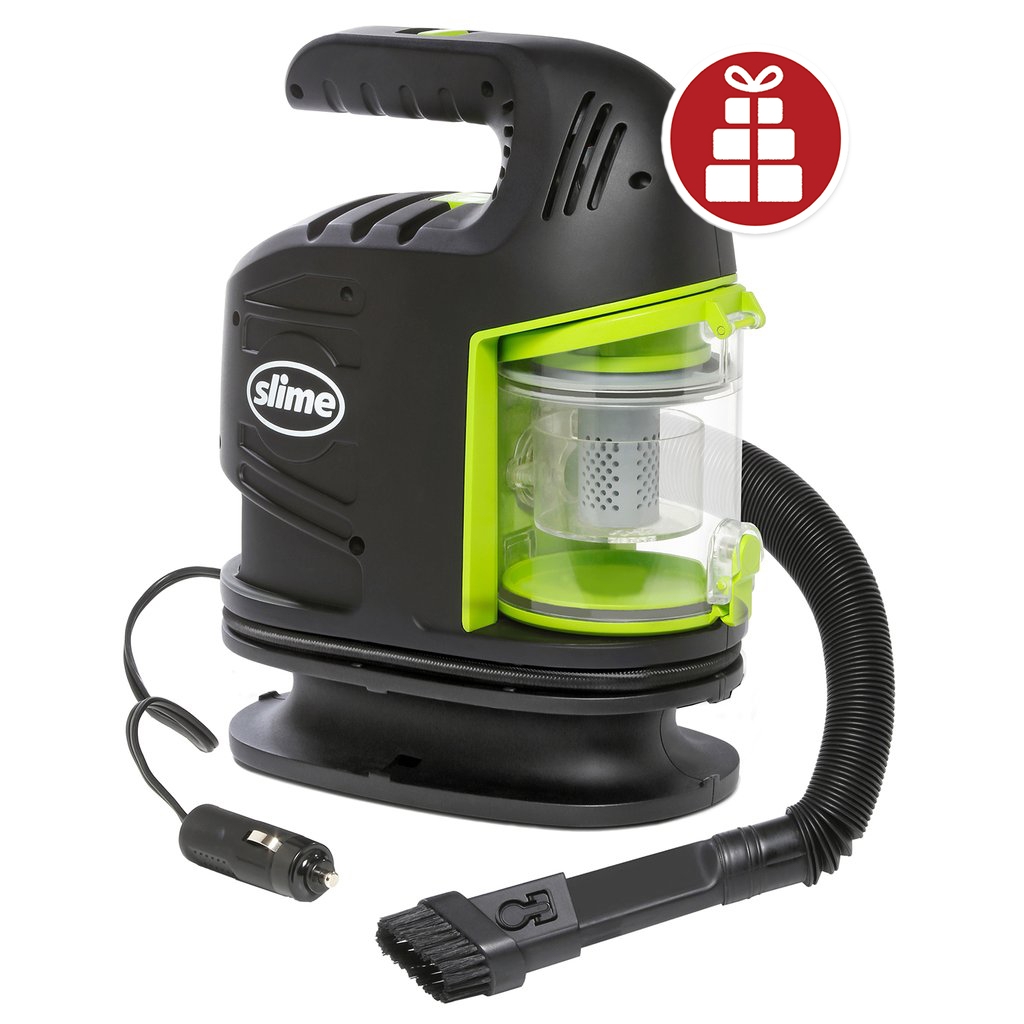 Slime Tire Inflator & Vacuum (2-in-1)
Meet your new best friend! This lightweight, portable device is both a tire inflator and vacuum in one compact design.
With a powerful motor that airs up a standard tire in 6 minutes, the tire inflator features a digital gauge with Inflate Right Technology (auto shut-off at set psi) and a built-in light. The vacuum incorporates strong suction power and a long-reach hose to clean anywhere. Got a back seat full of sand, goldfish crackers, pet hair, even liquid? This tire inflator vacuum does it all.
Great for: Parents with messy kids (so – all parents) and friends who take pride in maintaining a clean car
Fixing a roadside flat tire can be dangerous, time consuming and difficult. But with the digital Flat Tire Repair Kit, you will be up and back on the road in less than 8 minutes.
We simplified the traditional repair kit into four simple steps. At the push of a button, a mix of sealant and air are fired right into your tires, sealing punctures and repairing the tire. Best of all, the repair lasts up to 500 miles, more than enough to get you to a service station. With the Flat Tire Repair Kit, you are not just buying time, you are buying simplicity and peace of mind.
Great for: College students, new drivers, and anyone who might have trouble physically changing a flat tire

Slime Tubeless Premium Sealant
Give your tubeless cyclist the latest in tubeless sealant technology!
Slime's Tubeless Premium Sealant is everything you could want in a bike tire sealant. Protecting you from tears and slits, Slime's tubeless sealant is designed to stay liquid longer, seal faster, extend the lifespan of your tires and carry you farther. Slime's new sealant is available in a variety of bottle sizes, or put together a whole tubeless starter kit that includes sealant, rim tape and valve stems.
(Want to give your gift some bling? Check these out!)
Great for: The bicycle enthusiast who wants their sealant to last as long as their tires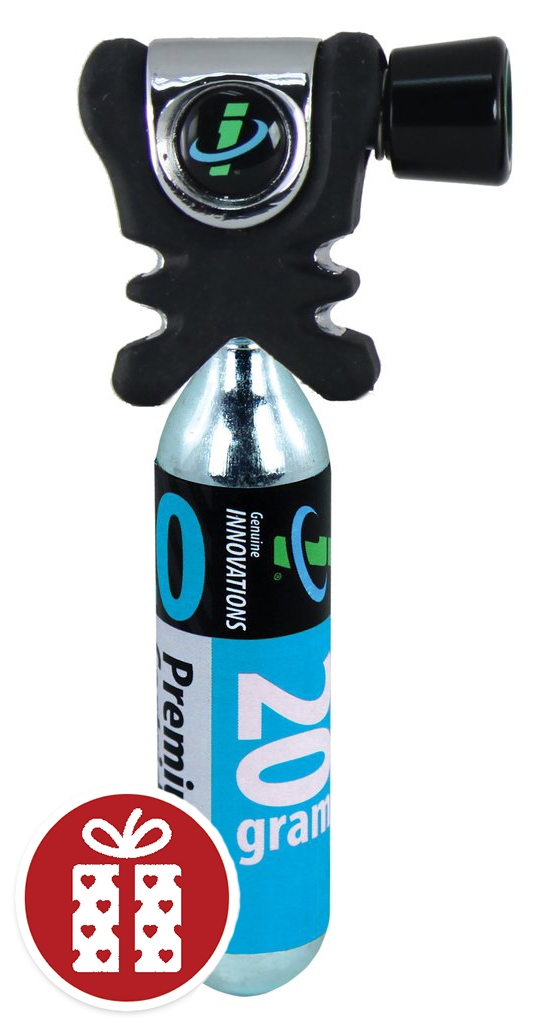 Genuine Innovations AirChuck+ CO2 Bicycle Tire Inflator
Everything you know and love with the original AirChuck, and then some! The new AirChuck+ features the same lightweight, push-to-inflate technology as its predecessor, in a more ergonomic design that includes a comfort grip shroud to keep your fingers off the CO2 cartridge. Available in silver or blue, get back on the trail quickly and look good while doing it!
(Feeling extra generous this holiday? Throw in some extra 20 gram threaded CO2 cartridges).
Great for: Every bicycle rider who gets arm fatigue using a manual hand pump to air up their tire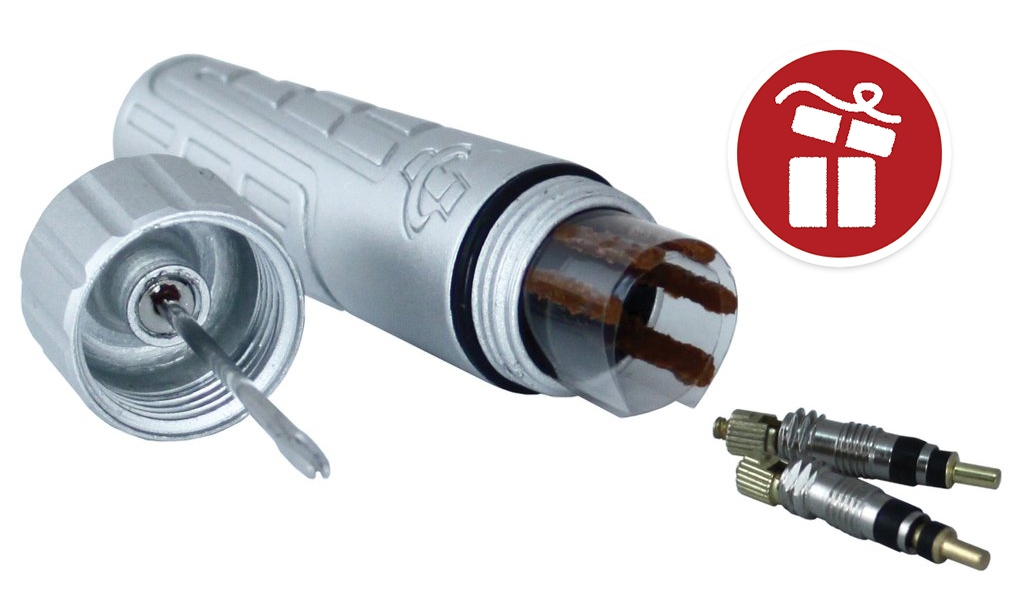 Genuine Innovations Tubeless Tackle Kit
One tubeless bicycle tire tool to rule them all. Compact and versatile, this is the ultimate tubeless tire repair tool. Featuring strong repair plugs, Presta core valves, an integrated valve core removal tool and a small plugger tool (all stored in an alloy weatherproof capsule), the Tubeless Tackle Kit is one of the coolest bike tools on the market. Never get stuck on the side of the trail again!
Great for: The backroads cyclist who doesn't want to push their bike home after a flat tire