The Ultimate Slime Test at the SCORE Baja 500
June 9th, 2017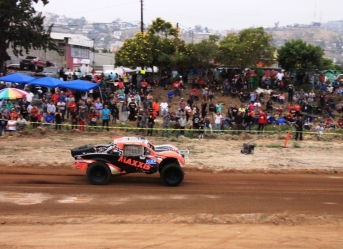 The SCORE Baja 500 off-road desert race is an epic adventure for riders, drivers, chase crews and fans. Traveling at more than 100 mph, nearly 275 entries from 14 countries travel a 500 mile single-loop race that starts and ends in Ensenada, Mexico. Locals celebrate with a day off from school as a two-mile long parade of race teams eases its way through the main boulevard in town.
This epic race is the ultimate test of our Slime sealant products: Tire problems often mean the difference between racing in clear air as the leader, to getting passed by dozens of competitors and facing a grueling comeback through the dust and dirt, ruts and rocks, sand and silt, and even traffic jams at narrow passes or crash scenes.
Smart teams – on dirt bikes, ATVs, UTVs, bugs, buggies and many types of trucks – run Slime tire sealant to prevent flat tires. They even pre-Slime spare tires and trailer tires. As we will be telling people at the Baja 1000 in November, Slime equals less flats and more podiums.