Slime Holiday Gift Guide 2021
November 17th, 2021
What would you do without your "at home pro?" You know who we're talking about. That member in your family who can fix practically anything, whether it is a leaky sink, a busted screen or a flat tire. And since we think it's safe to say that we have been spending a lot more time than usual in our homes, we are extra grateful this holiday season for our at home pros that keep everything running.
With the at home pro in mind, check out Slime's 2021 curated list of amazing gifts for your loved one: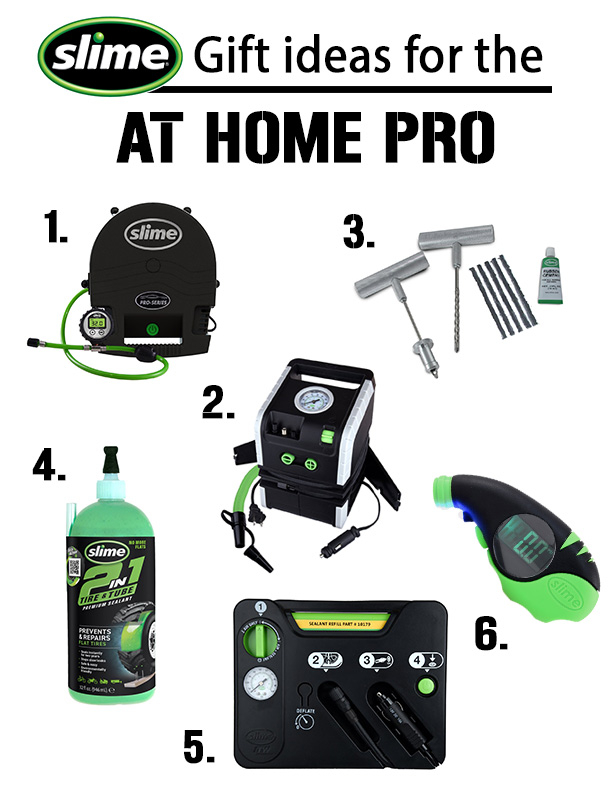 1. Slime Pro-Series Garage Inflation Station: Air on demand! Slime's new Pro-Series Garage Inflation Station lets you air up everything in your home quickly and easily! With a 25-foot retractable hose, a powerful motor for super-fast inflation, and easy read digital display placed strategically where you need it, this Garage Inflation Station has you covered. Mount it to your garage and inflate away!
2. Slime Dual Power All Purpose Tire Inflator: Give your at home pro the most flexible tire inflator on the market. Slime's Dual Power All Purpose Tire Inflator offers two air hoses (high pressure for tires and high volume for rafts and mattresses) and two power options (120-volt home and 12-volt car accessory outlet) so you can easily inflate all your tires and toys!
3. Slime Pro-Series Ultimate Tire Plug Kit: Made for professionals and consumers alike, the Pro-Series Ultimate Tire Plug Kit has everything you need to repair a punctured tire! This 13-piece kit features a heavy-duty aluminum reamer, a plugger with insertion collar, powerful plug strings and some rubber cement to get you back on four wheels. The Pro-Series line of products are rugged, built to last and get the job done right!
4. Slime 2-in-1 Tire & Tube Premium Sealant: Is your at home pro repairing a tire with a tube inside, or is it tubeless? Who cares?! Slime's new 2-in-1 Tire & Tube Premium Sealant works to prevent and repair flats in all off-highway tires and tubes! Install in any non-highway vehicles (including ATVs/UTVs, golf carts, riding lawn mowers, small trailers, tractors, scooters, bicycles, dirt bikes and much more) and enjoy two years of continuous flat tire protection.
5. Slime Flat Tire Repair Kit: Elevate your loved one from at home pro to superhero with the Slime Flat Tire Repair Kit. With just the push of a button, the Flat Tire Repair Kit injects repair sealant and air into your flat tire for a quick and easy emergency flat tire repair. Just 10 minutes and one simple step to get safely back on the road.
6. Slime Elite Digital Tire Gauge: Take air pressure innovation to the next level with Slime's Elite Digital Tire Gauge. Slime's advanced Pressure Airlock Technology (P.A.T.) locks in the air, so there is zero air loss when checking your air pressure with this gauge. Delight your at home pro with a fun gadget that delivers the most accurate tire pressure reading every time!