The New, Easier Way to Fix a Flat Tire
July 28th, 2017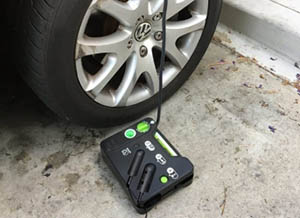 Changing a flat tire is a hassle! Typically, the situation is dangerous, with you squished on the side of a busy freeway or stranded in the middle of nowhere with no cell phone service. And typically it's really hot or cold. And you have kids in the car. Or you were on your way to an important meeting dressed in your best suit.
In the event of a flat tire, what are your options?
Pull out the spare (hope it's inflated and not flat), jack up the car and change the tire yourself. Dirty and hard work!
Call roadside assistance and wait up to an hour for help. Potentially expensive and wastes a lot of time!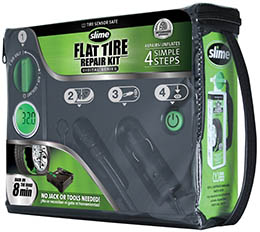 Slime would like to offer you a third option: our new Flat Tire Repair Kit. In just four simple steps, Slime repairs and inflates your tire in under 10 minutes to get you back on the road quickly and safely. No jack or tools needed. No need to call for help. It's simple:
Select your mode: Air + sealant (to fix a flat) or air only (to top off tires)
Connect the kit to your tire valve
Plug the kit into your 12-volt accessory power outlet
Turn it on
Compact and effective, the Flat Tire Repair Kit can be used by anyone. Want to learn more? Take a look at this video to watch the new Flat Tire Repair Kit in action and see for yourself how this innovative safety repair kit can come to your rescue in a roadside emergency: