The Worst Flat Tire Stories – Episode 1
July 18th, 2017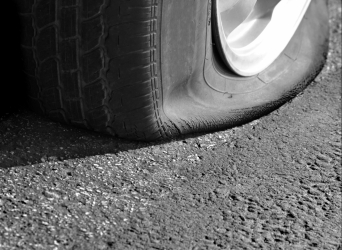 Unfortunately, flats happen to everyone. Some drivers are lucky enough to rarely experience the "fun" of changing a flat on the side of the road, and others may feel like they are a flat tire magnet! But in reality, research has shown that people get a flat tire an average of every five years.
We recently asked our amazing Slime customers to submit their worst flat tire repair stories for a chance to win a Slime gift. But the submissions were so interesting that one winner wasn't enough! Read below for some of our favorite flat tire story submissions.
***
"A long time ago while on route to the beach with a couple of friends, we ran over something that was in the expansion plate on an overpass and got two flats on the same side of the car. We were not far from home and my friend's brother had the same car, so while he went home to get his brother's car for the extra spare, I decided to jack up the car and change the one tire. While inside the trunk getting the tire out, a tractor trailer sped by, causing the trunk lid to be lifted further up and then come down, hitting me in the head and causing me to take a trip to the ER (delaying our trip)."
- Bob Muller
***
"I, unfortunately, have had more than my share of flat tires. I seem to find every nail or screw in the road as though my tires are magnetized. The worst though, even trumping my Thanksgiving evening flat, was during the summer of 2003. I was 8+ months pregnant and it was end of June in Cincinnati. HOT. REALLY HOT. I was on 71 South almost to downtown, when in heavy traffic, I heard that terrible rumble begin. I had to pull off in a small strip between the highway and an exit ramp.
No one would stop as it was 5 PM rush hour and my phone was of course dead. Even police officers flew by me. Eventually, after almost two hours, a kind gentleman stopped and brandished a can of flat fixer. It got me on my way and I was so grateful."
- Heather Lewis
***
"Quite a few years ago, while driving through a blighted neighborhood in New York City, I got a flat tire. I pulled over, got out and opened the trunk to get the jack, lug wrench and spare tire. I heard a noise from the front of the car and looked up. There was some guy under the hood of my car. I shouted asking him what he was doing and he replied, "Hey man, I just want the battery, you can have whatever you want." I shook the lug wrench at him and said get out of here, I own this car, and I am changing a flat. He closed the hood, smiled and said sorry man. As I think back now it could have been a lot worse."
- Joe Barinas
***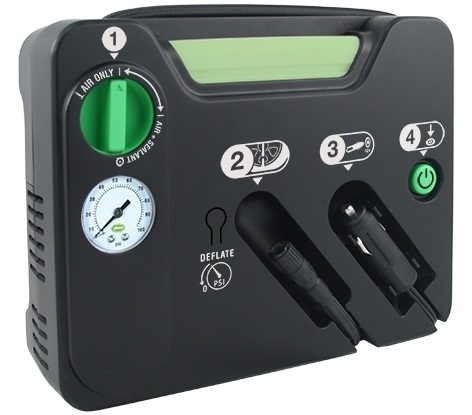 All three entries above were sent our new Flat Tire Repair Kit to hopefully ease their pain the next time they get a flat tire! Check out this video to learn how, in 4 simple steps, Slime's new Flat Tire Repair Kit can get you back on the road safely and in just 10 minutes.
Think you can do better? Email the epic tale of your car, bike, ATV, tractor, wheelbarrow or trailer flat tire experience (and pics too, if possible) to nomoreflats@slime.com.