Tube Sealant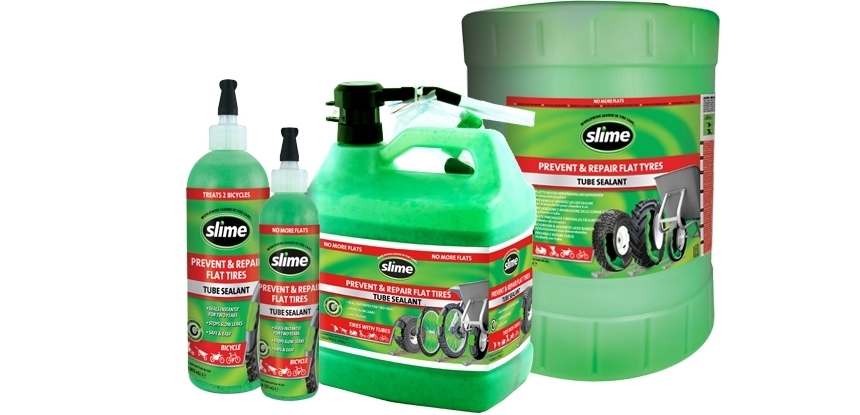 Slime Tube Sealant seeks out and instantly seals tread area punctures up to 1/8" (3mm) using Fibro-Seal technology. Install in your bicycles, dirt bikes, wheelbarrows, riding mowers and more, and enjoy two years of continuous flat tire protection.

• Instantly seals up to 1/8" (3mm) punctures
• Non-toxic and non-hazardous
• Non-flammable
• Cleans up with water
Slime Tube sealant prevents and repairs flat tires caused by puncturing objects up to 1/8″ (3mm) in diameter. Slime works repeatedly to repair new and existing punctures and is guaranteed to perform for up to 2 years!
Seals multiple punctures repeatedly.
Non-toxic.
Non-corrosive.
Non-flammable.
Non-aerosol.
Water soluble.
The inner tube formulation should not be used in a tubeless tire. Slime sealants are designed to treat tread area punctures only and should not be used to repair sidewall punctures, snake bites, rim spoke punctures or gashes from metal or glass.
| Part # | Details |
| --- | --- |
| 10003 | 8oz / 237mL |
| 10004 | 16oz / 473mL |
| 10162 | 1gal / 3,78L |
| SB-5G | 5gal / 18,9L |
Share This Product
---
How much Slime per tire?:
To find out how much Slime you need in your tires, select a standard tire size below.
Slime Needed:
General tire and tube sizes and their required amounts are listed in the chart above and on our packaging. If you have large tires on your Motorcycle, ATV, Truck, Tractor or Passenger Vehicle, use our handy Slime Calculator (Application Table) to determine exactly how much Slime to install as your tire may require more than our general application amount.